ExitPoll
Deliver questionnaires to participants directly within VR/AR and get instant feedback.
Get more accurate survey results by reducing the time between participant experience and the questions.
Instant Feedback
Surveys within VR/AR provides real time feedback about the experience so participants can tell you exactly how they feel during the session.
The results are aggregated and displayed on the dashboard for analysis.
Qualitatively Measure Success
ExitPoll answers can be evaluated as required steps within the Objectives System.
For example: The participant must answer that they "Feel Confident" about their knowledge at the end of the session to be successful.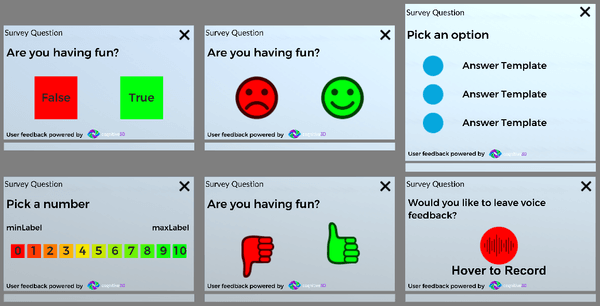 Customizable
ExitPolls are easily edited without involving code. With a variety of prefab templates that are ready to use.
Join hundreds of immersive simulation experts by using Cognitive3D to understand your participants.