How The Fortune 500 Are Using Virtual Reality In Education & Training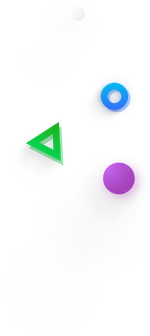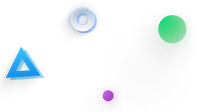 How The Fortune 500 Are Using Virtual Reality In Education & Training
Fortune 500 companies are increasingly adopting Virtual Reality in education and training.
The technology is much more effective than traditional learning methods. Virtual Reality gives people the ability to learn by doing. Through our own studies, we've found that knowledge retention is increased by 57% compared to video or text.
In this blog, we'll cover how Fortune 500 companies are using Virtual Reality to train and educate their employees today.
UPS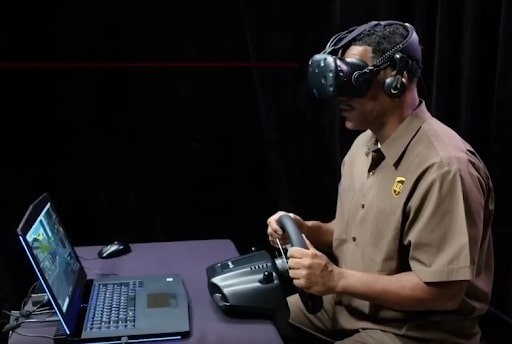 Image via: BGR
Virtual Reality is going to be the primary method UPS uses to train their drivers at 2 of their Integrad European facilities. The training module will be replacing the touch screen devices that they currently use.
The simulation lets drivers practice driving on the streets in German and UK. UPS want to test students on potential road hazards such as pedestrians, parked cars and traffic. After passing the virtual modules, students can begin to drive in the real world.
At the moment, only package delivery truck drivers will be using the technology. But UPS is looking to use it for tractor trailer drivers and other operations in the near future.
Walmart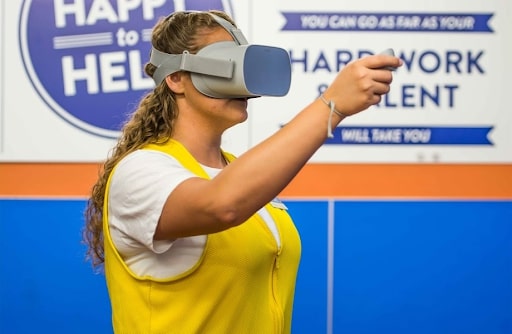 Image via: Walmart
In 2017, Walmart introduced the use of Virtual Reality as a training and education tool at Walmart Academies around the world. Their goal is to train their staff to better serve customers and provide a better shopping experience. The main areas they're looking at are: empathy, customer service and compliance.
By using virtual simulations, employees can practice dealing with customers in many different scenarios. "The great thing about VR is its ability to make learning experiential," said Andy Trainor, Walmart's senior director of Walmart U.S. Academies.
Boeing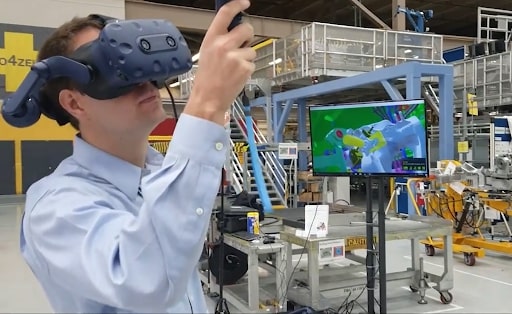 Image via: Boeing
Virtual Reality in education and training isn't anything new to Boeing. They've been using the technology for years to improve their manufacturing process.
Boeing's most recent plane, the 737 Max 10 is using Virtual Reality to receive better feedback about potential tooling issues for final assembly. This way, their engineers and mechanics can prepare the equipment for assembly months beforehand.
"Our mechanics are able — in a virtual scene — to see how landing gear will be installed, how it will look and what kind of tools we'll be using," said Sir-Sain Leong, 737 MAX manufacturing senior manager.
Accenture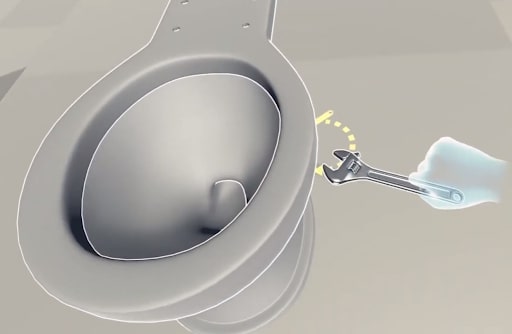 At Cognitive3D, we partnered with Accenture to research how well Virtual Reality can improve the effectiveness of vocational training.
We wanted to demonstrate that Virtual Reality is better than other methods. Our study tested how long it took service and industrial workers to finish their tasks. The results showed that learning in Virtual Reality increased average completion rate by 12% and decreased average time to finish task by 1.31 minutes compared to video tutorials.
Read the full Accenture case study
How to Measure Success in Virtual Reality
Implementing Virtual Reality in education and training is not enough. Companies must be able to prove and measure success through analytics.
This is where Cognitive3D comes in.
We make it easy for you to start capturing Virtual Reality specific metrics.
Our platform is headset agnostic and it supports a number of software engines including Unity, Unreal, C++ and JS.
This means you can simply install our SDK and connect your headset to receive analytics.
---
Stay Up to Date With the Latest In VR/AR Analytics